If you've decided to get a stationary bike for home use, you have to choose the right type of model for your needs. Both air bikes and spin bikes are popular and practical tools. In addition, they'll increase your lean muscle mass, your heart health, and mood.
None of them is perfect, though.
We'll discuss their pros and cons below so that you can pick one that may not be perfect in the abstract but is undoubtedly suitable for you.
What Is An Air Bike?
An air bike, also known as a fan or assault bike, is a specific indoor bicycle. The two unique features you'll notice from the start are:
Movable handlebars. This type of handlebar design allows you to train your arms, shoulders, and upper back.
Air resistance. Assault bikes have giant fans that you activate when moving the pedals and the handlebars. These fans spin and create air resistance. As a result, pedaling hard increases the resistance you push against so that you can tone faster.
What Is A Spin Bike?
Spin bikes are indoor exercise bikes, too, with a twist. You've probably seen them in movies, TV shows, or commercials. Usually, a group of very fit moms pedals hard and in an upright position while a sexy coach trains them.
So the first thing you notice is that spin bikes are explicitly made for speed.
What you may not notice yet is that spin bikes feel like the real thing. Once you jump up on one, you'll feel like riding an outdoor racer.
These two features come courtesy of their flywheel design. And hence the confusion; flywheel sounds pretty much like a fan, right?
Not quite.
The flywheel mechanism means resistance is created by a combination of friction and a magnetic belt. Thus, you'll experience more resistance, so you'll have to push harder against it.
Fan Bike Vs. Spin Bike: Advantages And Disadvantages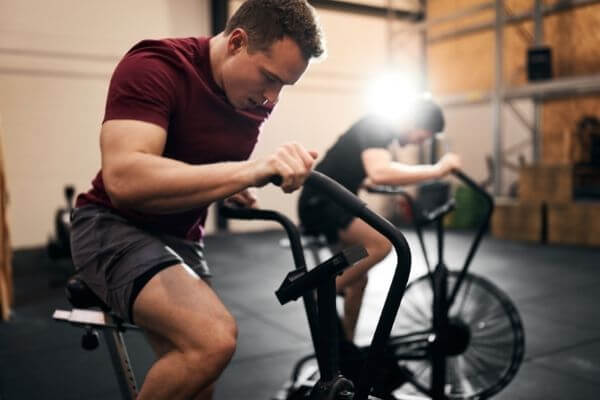 Air bikes became popular in the '80s as excellent aerobic workout tools, but what really gave them visibility was the Crossfit movement. That's because assault bikes help you train your entire body and do so aggressively.
Since fan bikes have no engines to activate them, you'll have to do all the work. If you're pushing hard, you're creating more air resistance to work against.
Conversely, spin bikes are the new kids from the block. You know these from spin classes where they were initially used.
But since so many people loved them, spin bikes became available for home use too.
You can still keep the same spin-class vibe from home if you choose a spin bike with prerecorded programs. Watch these classes on the screen and push hard to burn more fat weight.
Air Bike Advantages
Air bikes are solid, so most of them accommodate heavy people up to 350-400 pounds.
The air resistance means you can genuinely work out against your own strength and according to your fitness level without overexerting yourself.
Because most air bikes have no engines, you can place them anywhere in your home without depending on an outlet.
Fan bikes allow you to train your upper body, too, without any other fitness equipment.
Because each time you're jumping on an air bike, you're doing a total body workout, you can increase your heart rate and burn more calories with less effort.
Air Bike Drawbacks
Air bikes are heavy and take up a lot of space because they're so sturdy and have huge fans.
The highest-quality models can put a dent in your budget.
Air bikes aren't foldable.
Spin Bikes Advantages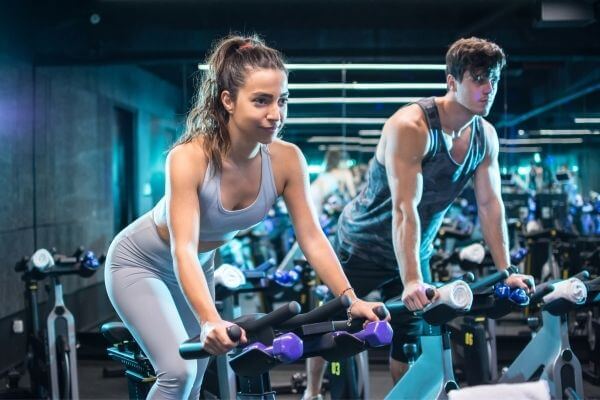 Spin bikes are best for high-intensity interval training.
A 30-minute intense spinning session burns through your fat stores because after your body is done using the available carbs and stored glucose, it starts using your fat deposits.
Most spin bikes have wide screens where you can watch various training programs. That way, time will pass faster, you can focus more on your workout, and keep your motivation up.
Spin Bike Drawbacks
Top-notch spin bikes are expensive.
Spin bikes are techy and gadget-rich. That means you'll have to place them near a plug and have strong Wi-Fi.
You have to spend more time adjusting your spin bike according to your shape and size. That means you have to set up the correct height for your handles, pedals, and seat to avoid pain.
In Conclusion. Assault Bike Vs. Spin Bike: What Should You Get?
If you've read the pros and cons above but aren't sure what to choose yet, allow your needs to guide you.
Choose an air bike if:
You want to focus on aerobic training. That means you'll be improving your heart health, and you'll lose more calories quickly.
You want to exercise your entire body without having to buy extra equipment.
You have enough space for a large and heavy machine.
You don't want techy fitness equipment in your home. You're okay with setting up your own workouts and goals or simply wish to exercise in front of the TV.
Choose a spin bike if:
You want to focus on interval training. This sort of training improves your heart health and helps you lose weight, but it also increases your metabolic rate and burns through your fat deposits.
You don't want to train your entire body. Instead, you prefer to shape and tone your legs.
You have less space in your home.
You would thrive watching virtual classes because you'd make more progress and keep your motivation up.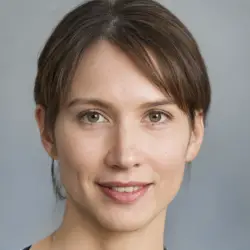 Latest posts by Mary D. Brown
(see all)