Rowing machines offer many benefits. They help you lose weight quickly, they build muscle mass, and they're friendly to your joints. Also, they improve your heart health and keep you happy.
Some people prefer rowing machines over running – we compared the two here.
However, not all rowers were created equal, so it's essential to choose the right one according to your goals. You're on the right page for that because we review four types of rowing machines that keep you fit and healthy.
Hint: each will fit a different personality and goal. Keep reading below!
Types Of Indoor Rowing Machines
There are four main types of indoor rowing machines. We'll analyze these rowers below, highlighting their pros and cons.
Air Rowing Machines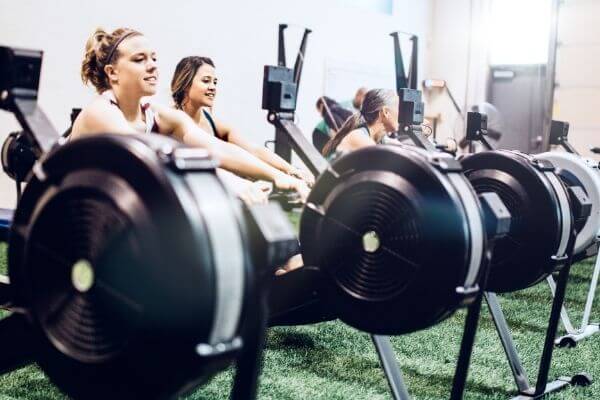 Air rowing machines are top-rated, but what is the main difference between a water rower and an air rower?
Air rowers feature a flywheel that connects to the rowing handle with a chain. The flywheel uses air to create resistance.
So, when you row quickly, the flywheel spins more and thus creates more resistance.
Pro tip: If you want your air rower to feel like the real thing, choose a product that features dampers. These dampers will change the airflow to create a more dense feeling – like you're pushing through actual water.
PROS:
Air rowers offer a more comprehensive array of resistance levels.
You can choose the automatic resistance level that matches the flywheel's spinning to your stroke pace.
These machines feel smooth.
They're sturdy.
CONS:
Best for: Competitive rowers who want to train during the off-season, and like a rowing machine that resembles water rowing as closely as possible
Water Rowing Machines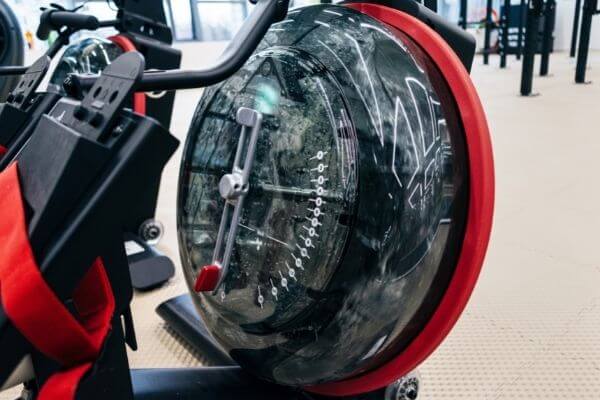 When judging air rowers vs. water rowers in terms of the authentic feel, you'll notice that water rowers are hands down the best. These machines use actual water and paddles for creating resistance, plus there's no lag during your stroke cycle.
Yes, these water rowers are new on the market, but that only means they use technological advancements to their advantage. And their creators have gathered decades of insight into what people want.
So, water rowers feel smoother, and they're definitely quieter than air rowers.
That's because their water flywheels, aka paddles, revolve in a tank of water. This water creates resistance. So, if you row faster, this resistance will increase.
But here's the thing:
Competitive rowers still prefer air rowers.
PROS:
Water rowers are smooth and silent.
Water rowers offer consistent resistance, so there's no lag in your strokes.
You'll find the whooshing sounds and water resistance closely replicates rowing in a real boat.
Water rowers are low maintenance and remarkably stylish.
CONS:
Water rowers have a large footprint.
They're expensive.
Best for: People who want a quiet, elegant, and low-maintenance rowing machine for life-like strokes.
Magnetic Rowing Machines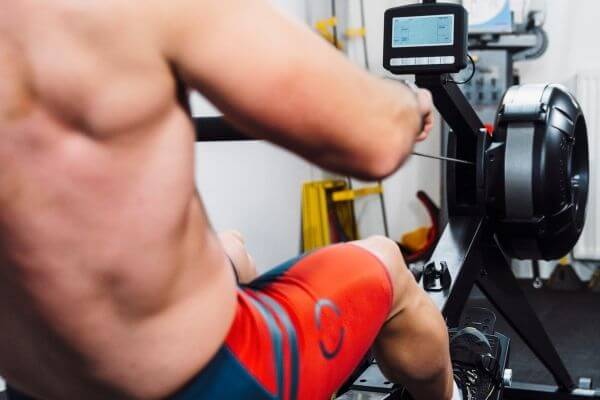 Magnetic rowers are very popular for indoor use because they're also exceptionally quiet compared to air rowers. However, they are much smaller than water rowers. 
Here's how they work:
Magnetic rowers feature magnets and a flywheel that connects to the handle with a chain. You can change the resistance either with a console or with specific sliders on the rower. 
As such, you can choose your resistance from an extensive range. Also, the motions are smooth and quiet.
PROS:
Magnetic rowers are silent.
They occupy a small place in your room. You can even find foldable magnetic rowers.
You can choose your resistance from a vast range.
You don't need to do a lot of maintenance work for your magnetic rower.
CONS:
Magnetic rowers feel nothing like the real thing.
If you choose a magnetic rower with a light flywheel, you won't challenge yourself enough to get a good workout.
Best for: People who want to pick the resistance themselves to get a good challenge and don't care about experiencing the genuine rowing feel.
Hydraulic Rowing Machines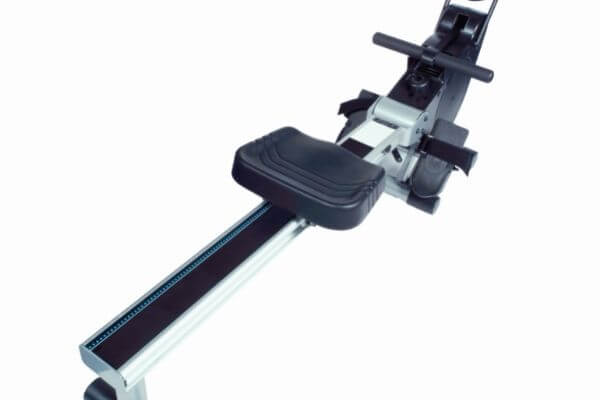 Hydraulic rowers boast three essential advantages: they're small, quiet, and affordable.
However, not many people prefer these machines. 
Hydraulic rowers create resistance with pistons which, unlike air, water, and magnets, provide a hiccupy feel when you're rowing. So although hydraulic rowers allow you to challenge yourself, they don't feel very smooth.
Basically, when you pull the handles, the air or fluid inside the pistons moves to create resistance. That's why the movements don't feel natural and smooth.
PROS:
Hydraulic rowers are affordable.
You can find many foldable hydraulic machines, plus a lot of non-foldable models are compact.
These machines are more silent than air rowers.
CONS:
They're not smooth.
The oil/ fluid inside the pistons means these rowers need regular maintenance.
Best for: People with limited budgets and space
Conclusion
In this article, we reviewed the pros and cons of different types of rowing machines so that you can pick the best rower according to your needs. For example, you now know that:
Air rowing machines are best for competitive rowers
Water rowers are best if you want a stylish, real-feel rower with an elegant design
Magnetic rowers help you get a customized and hard workout
Hydraulic rowers are the best budget option if you don't mind the lack of stroke smoothness
So, consider your goals and preferences before making your choice. Remember that your budget shouldn't matter that much – you can find quality, affordable rowers in each category.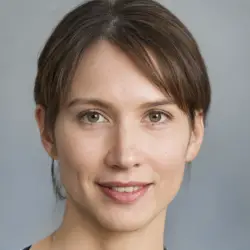 Latest posts by Mary D. Brown
(see all)